As with so many other things, there are far more differences than one would think between America and England. And when it comes to the Christmas holidays, this is true too! Over the past several years I've noticed all the little differences that add up to a very different holiday experience, and here I have compiled them for you. Ta-da!
Movies: As we Americans know, the quintessential Christmas eve films are "A Christmas Story" (you'll shoot yer eye out!) and the classic Dr. Seuss animated version of "The Grinch Who Stole Christmas". In the UK you get the much more staid "The Snowman", which is mostly silent and only 30ish minutes long. Anticlimactic!
Treats for Santa: In England children leave a carrot for the reindeer, and a mince pie and some sherry (!!) for the fat man, while in the States we do cookies and milk, which seems far more wholesome if you ask me.
Songs: It seems to me that here in the UK the most popular holiday tunes  (aka, the ones I hear allllll the timmmmeeee) are a few decades old: Slade and Band Aid and The Pogues seem to be on a never-ending loop, accompanied by Wham's "Last Christmas".  In America I think Mariah Carey's "All I Want For Christmas Is You" is the big song of the season, and whatever other pop songs get released each year (NSYNC and Justin Bieber and Christina Aguilera singing their remakes of classics, plus dudes like Michael Buble doing the Xmas crooning thang). It seems that these, plus a sprinkling of traditional carols, like Silent Night and all of that, make up the American musical repertoire at the holidays. And don't forget about Nat King Cole and Bing Crosby! (America skips the past few decades and heads straight for the fifties and sixties).
and more evidence!
Christmas Eve: Traditionally Christmas eve in the UK is spent (by the young folk) down at the pub with their friends, boozing. So weird for me, since in the USA Christmas Eve is almost solely reserved for family time. It's nice though, and it seems to me that the American version of this "hanging out with old friends from home" happens the week of Thanksgiving, and since there is no Thanksgiving in the UK you get Christmas Eve as a pub night!
Entertainment: In my mind, he holiday season equals=The Nutcracker. Here, pantomimes, also known as "pantos" are the popular seasonal entertainment. As far as I can tell since I've still never been to one, pantos are like interactive musical theater-very camp and silly and slapsticky. They have nothing to do with mimes! They're seemingly popular with children and families, which is probably why I haven't seen one with Jon. Some day!
Christmas crackers: Okay, I can't think of an American equivalent for these! But these little party favors are center stage at every Christmas dinner, and sort of like the lucky wishbone tradition at Thanksgiving, two people give a tug on each of a cracker, and inside there's a silly joke, a toy or treat of some sort, and a paper crown. You can buy luxury ones from places like Harrods, or cheapies at any other store on the street-there's a huge variety of them available this time of year! The jokes inside are always unbearably cheesy, which makes them even funnier.
Meal time: Alright, this one isn't as concrete, but it's more a Christmas lunch in the UK, rather than Christmas dinner. Obviously this is variable.
The main event: The Christmas main course of choice in the States is generally a Christmas ham, since turkey is the bird at Thanksgiving. But in the UK you can expect a turkey, or perhaps even a goose (which just screams Dickensian to me, but I digress).
Sides: Traditional American sides include mashed potatoes, corn or green beans or some similar vegetable, dinner rolls, gravy, stuffing, and maybe collards and sweet potatoes (remember, I'm from the Midwest, so I can only really speak to traditions in our neck of the woods). In England the potatoes are roasted, there are parsnips and carrots, and pigs in blankets (which are actually sausages wrapped in bacon, not sausages wrapped in crescent rolls like the US version). You'll also often find pork crackling, various chutneys, and Yorkshire puddings. Which are not pudding, but which are from Yorkshire, maybe….? Wherever they're from, they are delicious.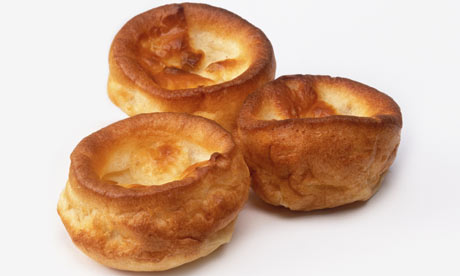 Sweet treats: Sugar cookies, more pumpkin pie and perhaps pecan can be expected at the American Christmas table. In England? Christmas pudding, which looks like a black dome-shape made of treacle and raisins/currants, among other things, covered with some cream and a sprig of holly, or Christmas cake, which is sort of a square sludge of dense sweetness. Both of them are chock-full of brandy or some other booze, and can last for, literally, years. Nothing will kill them. If you can't tell from my lackluster descriptions, I really dislike both of these things. Although you can set a Christmas pudding on fire, which gets it a few points for presentation! I just think it's a strange thing to have a traditional holiday treat be such a divisive one-from my own informal surveying of English folk, only about half or less actually like eating either Christmas cake or pudding. Whereas you hardly ever hear of people not liking sugar cookies! That's just science, folks.
Queen's Speech: An important part of Christmas day in England is the Queen's annual message. It's pretty cut and dry-five or ten minutes and she's outta there. But it's a thing! And people watch! The equivalent in America is probably (American) football, although there aren't always football games scheduled for Christmas day-like this year.
Boxing Day: I wish we had this in America, but we don't…yet. An extra day off the day after all the Christmas festivities. As far as I can tell, most English people just use it as another day to hang out with the fam or with friends (as an antidote to all the hanging with the fam that they've already done). It's nice to have that little buffer before going back to work. Personally, Jon and I will be doing a Boxing Day curry with our friends this year, after a morning spent with his grandparents.
Christmas day walk: Jon tells me it's fairly traditional to talk a walk after Christmas lunch. I believe that-remember, English folk love walking!
Santa's Grotto: At the mall-or shopping centre, as it's called in the UK-kids visit Santa's grotto, which sounds super sexy, but hopefully is not. Also, it's Father Christmas, not Santa Claus!
Lapland: English children are told that Father Christmas and his reindeer live in Lapland, which I guess is meant to be just like the North Pole, although technically Lapland is in Finland. Either way, there's chilly Arctic goodness.
Alright guys, these are the main comparisons that come to mind. Keep in mind, again, that I am not an expert on all American traditions (or even traditions in other parts of America!), nor am I an expert on English folk, so take all of this with a grain of salt and perhaps a shot of eggnog 🙂
And just because this is my very favorite, skin-tingling, beautiful holiday carol, I'll leave it here for you to enjoy.
Is there anything I forgot? What sort of holiday traditions to you have? I love hearing about them!